| | | |
| --- | --- | --- |
| Mangaka (漫画家) is a Japanese word for a cartoonist or comic artist. Do you want to learn more about them? Click here for more information. | If you want to develop a distribution strategy and viralize something, these tools will help you do it. | Trend, anime, manga , popularity level on topics of interest, fashion, public figures, artists, news, and way of life, and more. |
An anime adaptation of the light book Class will be produced, ranging from 2-Banme ni Kawaii Onnanoko to Tomodachi ni Natta (2nd Heroine).
As previously stated, a special event hosted by the publisher Sneaker Bunko took place today in Japan, bringing vital announcements.

Among these is the confirmation that an anime adaptation of the light novel Class de 2-Banme ni Kawaii Onnanoko to Tomodachi ni Natta (I Became Friends with the 2nd Most Attractive Girl in School) is in the works.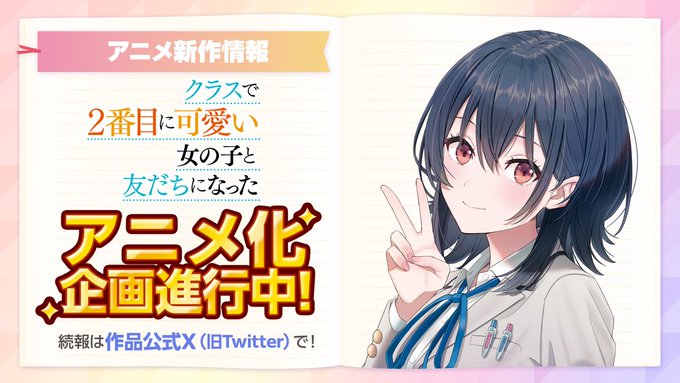 #スニーカー文庫35周年 配信イベントご覧いただきありがとうございました!

発表にもありました通り、
#クラにか
【アニメ化企画進行中】です🎊🎊

制作はまさにこれから!ですが、放送されるその日まで、原作小説&コミックスの変わらぬ応援よろしくお願いいたします‼️‼️

Without mentioning the studio or release window, the announcement brought with it a first image highlighting the character Umi Asanagi (check it out below).
Abbreviated as 2nd Heroine, the young adult novel tells the story of Maki Maehara, an ordinary boy with hobbies typical of his age, including watching shark movies or playing video games while trying snacks, pizza and soft drinks.

In a new school year, her class welcomes two new students: Yuu Amami, considered from then on to be the most beautiful teenager in school, and her friend Umi Asanagi, seen as the second most attractive girl in school.

Believing they are in different worlds, Maehara is surprised when Umi approaches him and asks: "I want to be your friend, can I watch movies at your house?" Since then, an expressionless boy and the second most popular teenager in high school have become close, hiding their friendship from everyone.
The novel is written by Kaku Takata with illustrations by Tom Osabe, with 4 books published in addition to 2 volumes of the manga drawn by Rin Ono. In total 200,000 copies were sold by May of this year.